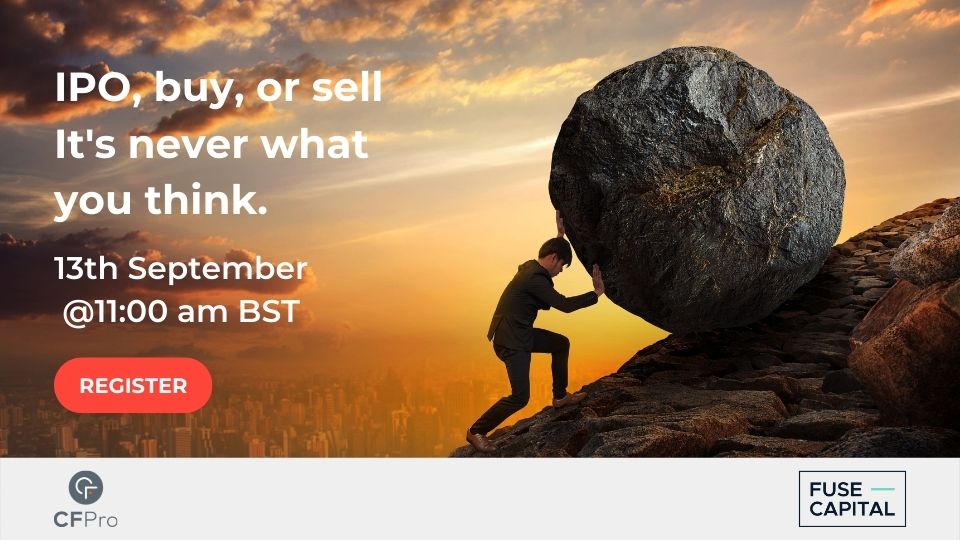 Tuesday 13th September @ 11:00am BST
It's a big topic right now, what to do with your tech company when you're heading towards a transaction.
You already know it's not easy but what can you do about it?
Watch our Livestream on September 13th
Learn what you need to do to get transaction ready
See how you can increase your value and get closer to your real value
What to do in a bear market to get the most out of your company
Get the governance right!

Russell Lerman - CEO Fuse Capital
Russell is the CEO and founder of tech debt advisory Fuse Capital. In 2008 in his previous company he needed to raise capital. Discovering the lack advisory support in the £2m-£25m private debt space. After a successful exit, in 2013 he founded Fuse Capital with Ifti Akbar to address that problem.


Russell prides himself on getting the very best deal for the client. He has his finger on the pulse of the technology sector and uses this market knowledge to deliver a deal that works for everyone. He likes getting difficult deals done for clients that solve a problem.

Barbara Spurrier - CEO CFPro
Barbara is a qualified certified accountant (FCCA) with more than 25 years experience in financial and accountancy roles. From her accountancy training with Kidsons in London, she has progressed through accounting and fund management roles, on to chief financial officer (CFO) within PLCs and a range of entrepreneurial companies. She has held several non executive director positions.
She has experience as CFO and Company Secretary for AIM listed PLCs in the health care, technology and resources sector. She has successfully secured funding, undertaken M & A and MBO/MBI projects and has stepped into the CEO/COO role on an interim basis when circumstances have required.

Lucy Tarleton - Director CFPro
ACA Qualified and a senior capital market professional with over 15 years of experience, Lucy is an IPO specialist assisting boards, investors and management teams of private companies of any size and across a breadth of industries, in their initial and o n going assessment of a potential IPO strategy. Prior to joining CFPro, Lucy led the IPO Origination and business development of capital markets opportunities for PwC in the UK. She also spent four years as Regional Director, Primary Markets at London Sto ck Exchange. The focus of her roles was the broad preparation of companies for their IPO journey and leading business development activities to promote London's capital markets credentials to a wide set of stakeholders.