For what reasons do SME and mid-market tech companies repurchase shares?
It could be that you have a co-founder retiring, moving on to another venture, or even in the event of a disagreement. Buying out a co-founder allows that shareholder to cash out and exit the business.

What do I need to think about when planning a share buyback?
First off, assess the value of the departing shareholder's equity. To do this, evaluate your business and apply a value to the equity stake associated with the person leaving.
Then, when you've decided upon a value to which everyone agrees, choose the most appropriate funding for the buyback.

There can be differences between the valuation and the amount of funding available.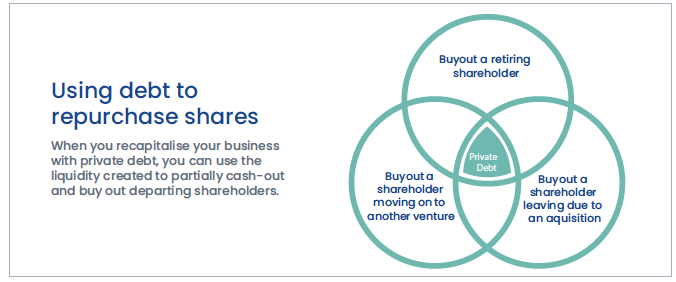 What type of finance is available to fund a share buyback?
Private Debt Term Loan
A Private debt term loan is no different to any other loan. Your business borrows money and then your business repays it. Private Debt has come to prominence since the Global Financial Crisis as banks have withdrawn from SME lending.
Private Debt lenders are simply playing the role which banks played many years ago.
Private Debt Mezzanine Finance
Often used by companies with a clear use of funds, mezzanine finance is a creative route to capital.

Cleverly combining parts of both equity and senior lending, mezzanine debt is often overlooked as many believe it to be expensive and complex.

But for the ambitious business owner, this alternative finance can mean the difference between achieving your goals or not.

Mezzanine finance allows you to borrow the amount you need without the burden of immediate full repayments.
Private Debt Royalty Finance
Royalty finance is a minimally dilutive solution that enables management teams to retain control and focus on growing their business without re-financing risk.
Royalty finance provides capital in exchange for interest distributions that fluctuate with future revenues. The distribution payable is reset annually, subject to a ceiling and a floor, according to your revenue performance.
Private Equity MBO
In a private equity-backed management buyout (MBO), the private equity firm will bring both equity and debt to the table. Management will normally be offered the chance to invest but they can also be incentivised via an ESOP.


IPO
When a private company first sells shares of stock to the public, this process is known as an initial public offering (IPO). In essence, an IPO means that a company's ownership is transitioning from private ownership to public ownership.
For that reason, the IPO process is sometimes referred to as "going public." In this scenario, at some point, the shareholders will be able to sell all or part of their shares.