Background
Edvoy, a leading study abroad platform, embarked on a journey to refinance their existing loans and secure growth capital to support their expansion plans.
As a debt advisory firm specializing in assisting tech businesses, our role was crucial in helping Edvoy navigate the complex landscape of fundraising and negotiating favourable terms.
In this case study, we will explore the unique challenges faced by Edvoy, the solutions we provided, and the milestones achieved along the way.
Edvoy's Business and Unique Value Proposition
Edvoy, established in 2007, is a comprehensive platform facilitating the entire study abroad student journey. Operating across nine countries and boasting partnerships with over 175 universities, including prestigious institutions in the UK, US, Canada, and more.
Edvoy offers a one-stop solution to students seeking international education opportunities.
Their unique value propositions lie in their extensive network, strong revenue visibility, and exceptional growth potential.


Challenges and Growth Opportunities
Edvoy approached us primarily seeking growth capital to keep up with their burgeoning pipeline and secure new partnerships with universities.
They also required refinancing to repay existing secured loans and additional funds for expansion.
The challenges involved presenting their seasonal revenue model to potential lenders in a convincing fashion; and overcoming the complexities associated with refinancing.
Why They Chose Fuse Capital
While Edvoy had a very capable CFO and CEO, they recognized the value of working with an advisor.
Our role was instrumental in painting a comprehensive and compelling picture, sparing opportunity costs, and providing specialized expertise to successfully navigate the fundraising and refinancing landscape.
Specific Challenges and Negotiation Complexities
Seasonality, the absence of contracted payments, and refinancing intricacies were what complicated the deal.
With cross guarantee between various entities and some different businesses owned by the same owner as Edvoy, the lending deal was difficult by itself.
But repaying previous loans meant a smaller portion of the current deal will be allotted for growth, and it posed challenges in securing the desired capital.
By demonstrating their strong revenue visibility and robust business model, we built a compelling case for prospective lenders.
Overcoming Challenges
To overcome the challenges, we painted a clear and comprehensive picture of Edvoy's business, showcasing their robust financial modelling and strong market understanding.
We emphasized their historical growth, solid client pipeline, and the value they bring to the table through their comprehensive product and expanding university partnerships.
These new partnerships illustrate the longer-term tendency of universities partnering up with platforms such as Edvoy as the future of "study abroad" solutions.
How Does EdVoy Operate?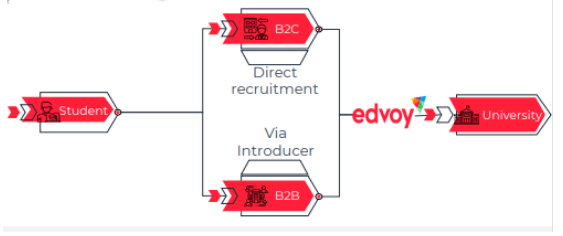 Selection of the Preferred Offer
Amidst multiple offers (Term Sheets), the chosen offer was the most suitable due to its alignment with Edvoy's growth plans, favourable terms, and the lender's understanding of the unique dynamics of Edvoy's business.
Through meticulous analysis and negotiation, we ensured Edvoy received the best possible deal.
Our Contribution
In this case, we provided strategic guidance, financial modelling expertise, and negotiation support. Our ability to understand Edvoy's unique business dynamics, build a strong case, and secure suitable financing options proved invaluable to their growth journey.
Most importantly, the management team was able to dedicate its valuable time and energy to growing the business, something "DIY" fundraising would otherwise have gobbled up.
Lessons Learned and Milestones
Throughout the process, Edvoy gained valuable insights and forged lender relationships that will drive their future growth.
The successful refinancing deal paved the way for expansion and opened doors to potential partnerships, solidifying their position in the "study abroad" industry.
Conclusion
Edvoy's partnership with Fuse Capital firm enabled them to secure growth capital and refinance their existing debt stack successfully.
By showcasing their unique value proposition, addressing complex challenges, and leveraging our expertise, Edvoy is now poised for rapid expansion in the study abroad industry.